The Cast
Servants of the Imperium is a webcomic set in the world of Games Workshop's Warhammer 40,000 universe.
The comic follows the (mis)adventures of the Imperial Inquisitor Severus Hunt and his loyal band of acolytes as they fight, shoot, sneak and explode their way across the Imperium of Mankind in the 41st millenium
Lord Severus Hunt
Affiliation: The Inquisition, Ordo Hereticus
Profession: Inquisitor
Lord Severus is the leader of the band, and a member of the holy Ordo of the Imperial Inquisition; tasked with hunting down witches, heretics and aliens who would threaten the Imperium of Mankind and the Holy God-Emperor.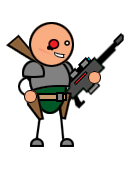 Krin O'Kar
Affiliation: The Inquisition
Profession: Bounty hunter
A bounty hunter from the hive world of Steelfall, Krin joined Severus's warband many years ago and now acts as heavy fire support and all-round asskicker. Krin solves most problems with an application of force and explosives. He has a habit of loosing important or expensive weaponry, and is infatuated with Brianna.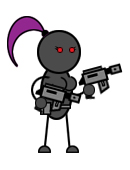 Brianna
Affiliation: Officio Assassinorum, Secretum Temple
Profession: Assassin
A mysterious and secretive agent of the one of the deadly assassin temples, Brianna has been trained her whole life to be a living weapon in the service of the High Lords of Terra. Due to her rigourous training she has few social skills.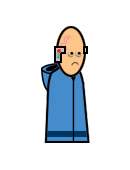 Lyle
Affiliation: The Inquisition
Profession: Imperial Psyker
Born with powerful psychic abilities, Lyle was taken by the Black Ships and trained as an Imperial Psyker, to use his powers for the good of the Imperium. He has served as Severus's savant for some time, applying his considerable knowledge as well as his mental powers to any problems the party face.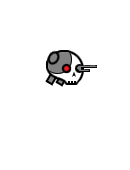 Hrodbert "Bob" van Piet
Affiliation: None
Profession: Ex-Pirate
Once a pirate lieutenant, Bob was turned into a servo-skull by his master, the cruel pirate-lord Blackstar. Bob saved Krin and Brianna on the moon of Xynthos, and since then has been a semi-willing member of Severus's retinue.
Aki
Affiliation: The Inquisition
Profession: Hive Ganger
Previously a member of an Underhive gang on Gloaming, Aki lost her friends and her brother to Genestealers, joining the Inquisition to gain her revenge.